One of the things we enjoyed the most during the vacation were the sunsets.
Almost every evening we enjoyed the sunset usually involving the Caribbean Sea and boats or birds.
And so, here are my favorite images and memories of the sunsets we enjoyed.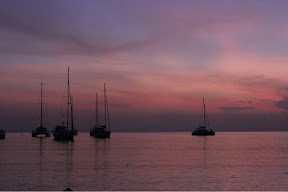 Marigot Bay, the second night, July 10, sitting on the dock down the hill from our villa.
3rd night--from the the dock in front of a restaurant in Marigot Bay, Cafe Margot on Monday evening July 11th
Sunset from Julietta's on the hill above Marigot Bay on Friday evening July 15th.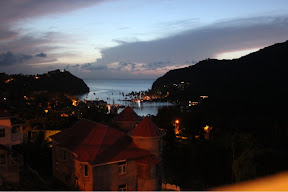 Also from Julietta's that same evening, just a bit later.
Fire in the sky, our second night at sea, July 17th, between St Vincent and Bequia
Third night at sea approaching Tobago Cays July 18th. This is of the clouds reflecting the sunset which is behind the camera.
Our last night at sea July 20, our next to last night of vacation provided a couple interesting sunset shots. We are in Cumberland Bay, St Vincent and the boat is anchored and tied to a tree.
also from July 20 in Cumberland Bay.
The final sunset image of our vacation, July 20 from Cumberland Bay, is appropriately birds flying away in front of a setting sun. Much as the sun was setting on our vacation and our sailing adventure and we were about to begin winging our way back to our home.
- Posted using BlogPress from my iPad