Once we departed Bequia, we headed for Mustique--plan was for lunch in Basil's on the beach and possible a short walk around and then snorkeling in the pristine waters of the bay.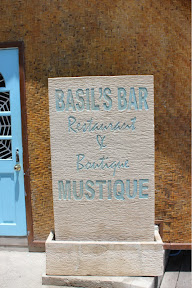 Lunch was really expensive and we realized we were paying for the novelty of being on Mustique and the 15 percent tax on top of the 10 percent service charge really added to the total bill. The scene outside the restaurant was nothing short of interesting with birds, a working port, and fantastic colors and sunshine.
But it was fun--and a good break in the middle of another day of sailing.
After the snorkeling and the fun it was back onto the boat to continue to our destination of Tobago Cays. There certainly is a lot of ocean/sea and the boat can really heel around at times making it impossible to read or even think. The captain caught a mackerel which will become dinner tomorrow.
Another nighttime arrival and so the surprise of the morning should be really awesome--I counted 17 other boats moored in the harbor as we were laying on the deck of the boat looking at the stars after dinner. The stars were beautiful and bright before the moon rose and added light to the scene.
The scenery from the boat continues to amaze and inspire. I never knew the Caribbean islands were so rugged and beautiful. Maybe I have been spending too much time in too flat Florida.
- Posted using BlogPress from my iPad