We had a beautiful sail of 10 hours when the story we all told. We arrived in Admiralty Bay about 8pm and Pennie and Chris had a great dinner ready as soon as the boat was secured at anchor for the night. It is very different sailing into a dark harbor not knowing what is in store or what is really there except for the lights of the other boats also taking refuge in the harbor for the night.
As we sailed past the island of St Vincent we were treated to fantastic scenery and even the location where the opening sequence of Pirates od the Caribbean was filmed. The sights, once the open water crossing was completed, kept our interest for the remainder of the trip.
We experienced another awesome sunset enroute to Bequia. We were sailing near Kingston, St Vincent at the time. It was awesome.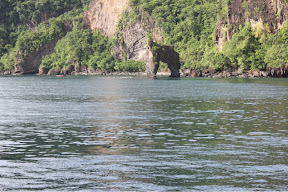 During the last part of the trip we were finally able to transition the boat from a motorized craft to a true sail boat as the wind finally came alive and we were truly sailing.
It was exciting and quiet to speed across the Caribbean under the power of wind--much like the sailors centuries ago did.
- Posted using BlogPress from my iPad