We took a day for some more exploration of St Lucia. We headed north from Marigot Bay and visited Pigeon Island, Rodney Bay, and the capitol, Castries, for some afternoon shopping during the heat of the day.
Our driver was fabulous and we navigated the roads again without incident.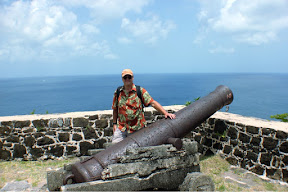 Pigeon Island is host to beaches and history. A fort was erected on the island which was critical in the control of the West Indies during the struggles between France and Great Britain for control of the region. The site also hosted a USAF signal station for a number of years--tough duty being assigned to St Lucia. We even happened upon an old lime kiln--which is significant in that it is the name of the school that Chris works in.
From investigating the history of the region--and even learning about the Battle of the Saints, 9-12 April 1782--a stunning victory for the British, and the coining of the phrase "breaking the line," we left Pigeon Island and headed off into Rodney Bay for lunch and sight seeing.
Lunch was an on the beach restaurant and a momentous thing occurred, my wife ordered the first beer she has ever ordered for her own consumption. AND then ordered a second. We have been enjoying a local beer here, Piton Beer, it is very light and refreshing and just slightly sweet taste. She tasted it the other night and really liked it--evidenced by her ordering one at lunch.
From lunch, we headed off to Castries for some shopping. A Carnival Cruise Line ship was in port--and we were often confused with the cruise people, but, as the town emptied out it became clear that we were not associated with the cruise ship.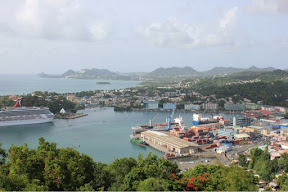 Shopping was an interesting adventure, but with a few exceptions, it looked as if every vendor was getting their merchandise from the same supplier. Castries is a booming city though and it was fun to be there amongst the hustle and the bustle.
Dinner ended with a nice meal at JD's at the end of Marigot Bay--we remembered bug spray unlike previous evenings and enjoyed the short ferry ride to the dockside seating of the restaurant.
- Posted using BlogPress from my iPad