And the radio blared out patriotic music as the fireworks made their way into the sky and the family cheered to its own backyard display.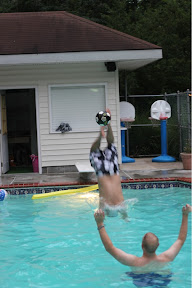 The overcast day did not dampen the spirits of those gathered for the celebration and the pool saw quite a bit of use as the weather was humid and warm--or as I sometimes call it, close. Note that the soccer ball is being kicked in the air, backwards, before fully landing in the pool. A tribute to the guys with the ball and the camera operator, Chris.
Lucas was in control of both of his parents, both grandparents and one set of aunt and uncle. Not bad for an 18 month old.
It was really kind of neat the the 1812 Overture came on the Pandora radio station we were playing right as we were enjoying our fireworks.
While we are but backyard amateurs, it was fun to have our own 4th of July fun in the backyard. And especially since the fire threat was very low due to the rain which fell the night before and the light rain that was falling as we were lighting the darkness with our own version of the replay of the War of 1812 and the bombardment which inspired Francis Scott Key to write the words that became our National Anthem.
It is sad that the long weekend is over and that it is back to the grind. But let,s be serious--in five days I'll be on a plane for a Caribbean vacation singing along with Alan Jackson about it being Five O'clock somewhere. Of course I always ask, why wait for five? It is three o'clock somewhere, too.
I hope you had a happy 4th. And I want to thank everyone in my family, extended family, too; who made this a holiday to remember.
- Posted using BlogPress from my iPad