Yesterday was devoted to a dive and snorkeling trip. We decided to head off and do serious work in the water. Although the day got off to a bit of a rough start in that the punctuality of vacationing Americans ran into the laid back approach to time that we generally love about the islands.
They were late--by all of maybe 5 minutes. But the dive shop didn't even open when it was supposed to open, which also caused some consternation. But in the end, all was good and we climbed aboard our dive boat and headed off for a great day of diving and snorkeling.
We headed off for our first stop which was a great location in the vicinity of the Lesleen M freighter. The really exciting thing about this tour operator, Dive Fair Helen, was they managed four very different groups nicely. The boat, although only having 12 passengers had one experienced diver, one diver doing certification dives, seven people doing and introduction to scuba, and three snorkelers. Everyone had their own guide and their own area to provide the best view of the marine life off the coast of St Lucia.
I got to dive the Lesleen M wreck. Chris, Scott, and Pennie got some really goos snorkeling right off the coast at Anse Couchon in some very clear water populated with lots of fish and corals. I actually joined them after my dive--and it was really good snorkeling. We got a great image of a cuddlefish. The wreck dive was awesome--I was the only diver and I had the divemaster all to myself. He really knew the wreck and ensured that I saw it all. I even made my first wreck penetration--we went into the superstructure and up a gangway out onto the walkways around the the aft end of the ship. The wreck is in about 65 feet of water at the bow and is 40 feet deep from the top of the superstructure. I saw a huge goliath grouper and an abundance of other fish.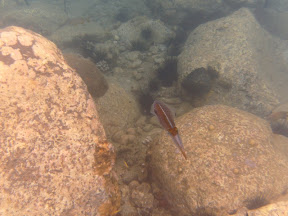 From there, we were served lunch and headed off to the area which is the primer diving spot of St Lucia: Anse Chastinet. Again the charter managed the very different groups. The diving and the snorkeling was fabulous. In addition. my dive also included a tour of another dive site called Fairy Land. The corals and abundance of life was the best I have seen. The dive was varied and in some places aided by a nice current which made areas like a drift dive.
The highlight of the dive was the spotted eel I saw moving along the bottom.
The trip back to Marigot Bay on the boat was relaxing and enjoyable. At the end of the day we had had a lot of fun and seen some truly unique site.
- Posted using BlogPress from my iPad