We arrived in Cumberland Bay fairly early in the afternoon and had an enjoyable next to last day at sea.
Cumberland Bay on St Vincent is an interesting stop--and it is frequented by a few vessels, but it is only a collection of bars and clubs (like 5) along a stretch of black sandy beach. One of the clubs/bars is done up in a truly amazing Pirates of the Caribbean motif, and we went there to enjoy one drink and marvel at the collection of movie memorabilia.
The club was interesting, but as we were really headed off to the steel drum band club--which interestingly has no electricity and was lit only by candlelight. We enjoyed the steel drum band and some dancing--I had a couple dances with a local girl (she was nine and I was carrying her) while Chris had a couple dances with a local guy who was putting the moves on her--humorously enough.
Earlier in the day, we of course snorkeled, but the fuel in the bay made visibility difficult and the odor in and close to the water really detracted from the ambiance of the spot.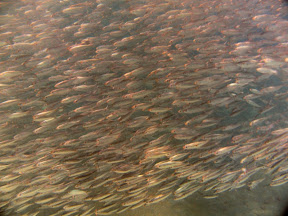 Even so, we did see some really interesting sights along the shoreline to include an octopus and a wall of fish in the water.
And of course we were treated to another fabulous sunset--and a group picture courtesy of the captain.
Sleeping on the boat proved to be tough--the smell of fuel plus rain making us close the cabin made for a very hot, close night. But as it was to be our sat night at sea, we were still saddened by the impending end to not only our sailing adventure, but our vacation as well.
- Posted using BlogPress from my iPad