One of the things I really wanted to do while in St Lucia was to zip line through the rainforest.
Yesterday, my desire became a reality. Chris and I headed off on a rainforest adventure which was great fun and thoroughly educational.
We headed out on an hour long taxi ride to the rain forest picking up some other companions along the way at other resorts. We were met at the entrance to Rain Forest Adventures St Lucia by Jesse who would be our guide for the activity.
We were strapped into harnesses and provided a helmut and looked really ready to zip line--but first there was a training run to teach us the basics of zip lining and ensure we would have fun during the day.
From the training, we headed off onto the tram for a 45 minute and scenic ride up the mountain. Jesse was a font of knowledge and explained the details of the rainforest to us during the ascent. I really enjoyed having such a knowledgeable guide and we had a lot of fun discovering the hidden secrets of the St Lucian rainforest.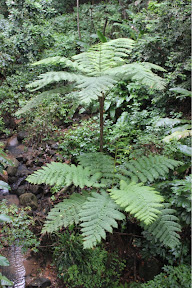 The tram up the mountain was in the area just under the canopy so that we could see the plants and creatures that inhabit this zone of the rainforest. As we arrived at the top, we disembarked and began a short hike to the zip line platforms.
We saw some wildlife along the way like this tarantula--which funny enough made a lot of people cringe--but it loved getting its picture taken.
We had a lot of fun. The operation was very safety conscious and after the first platform, which was just above the ground, we were never untethered to either the lines or a tree. At a couple platforms we were at least 80 feet up--and the view under the canopy of the rainforest was spectacular. Normally, you zip line alone, but Chris got a surprise when the guide decided to join her and spin her around on the zip line--just for fun!
After the zip lines--there were nine, we hiked back to the top of the mountain for the tram ride down. The ride down was mostly in or just above the canopy and so we experienced another unique part of the rainforest.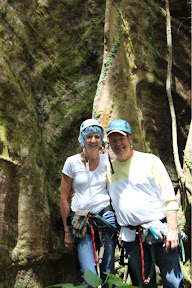 It was a wow day!
And after the hard work of becoming novice zip liners, we ended the day with another Marigot Bay sunset--just because. This is from a restaurant at the end of and above the bay--the whole bay is visible and our villa is on the right side of the hill going to the palm trees about half way down.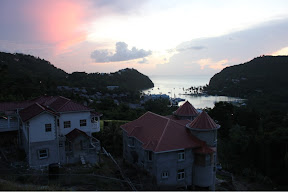 - Posted using BlogPress from my iPad